It has been a while since this blog received a visit from me, let alone for me to type any new entry. But because of the most time consuming competition that i've joined over the year has ended, now it seems to be a good time to revive back this once upon a time an awesome blog.
So my 7 month of hardship, sleepless night and hectic has ended. And today i officially ends my days as the senior as well. Not that i will stop coming to the lab, but the job as the senior is already over(as 2012 is the last year for me to go to Robocon competition)
Up close of the Poster in UNISZA(Universiti Sultan Zainal Abidin, Gong Badak)
The journey began back in January, just after i'm done with Langkawi International Maritime & Aerospace Exhibition. Although i should be starting with the rest of the 2 teams by September, i have my excuse of getting some money and needed the 4 month break to work.
Team Syntium Autonomous robot. build by me, second version.
Long story short, we form a new team, called Team C that time, with only few seniors and plenty of juniors. As time comes by, many juniors and even senior get off the bandwagon due to commitment issue. Its a tough decision to make, but its for the betterment of the team.
Up close of all the robots of Team Syntium. (From left, Manual, Autonomous, Collector)
The last one month before the competition, we struggle a lot with the robots. Many changes needed to be done. Many parts need to be re-fabricated. Many new programme and many unforeseen problems with the design. Even one week before the competition we still struggle. Not like previous year where 2 weeks before competition is the time for relax and some tiny maintenance only.
But Alhamdulillah, We managed to solve the problem before arriving to Kuala Terengganu.
Despite our poor result on all three UTP teams which goes by the names of Mach5, Sprinta and Syntium(All oil product from PETRONAS) we managed to score a jackpot in the Best Design and that gave UTP, RM 3000 as the reward. Atleast we didn't go back empty handed. hehe.
The programmer with a broken arm.
Super senior, Abam Jep that come all the way from Subang.
Of course, even for myself i felt a little regret and disappointed of this year competition. And the blame is all mine to begin with. If given the chance that i can skip Internship next year and do Robocon instead, i'll be glad to do so. But i think my time ends here in Petrobots club. I think its time to go and do something even more focused on my field of interest which is Automotive Engineering. and for that i hope to enters probably next year or maybe final year in Shell Eco Marathon or Perodua Eco Challenge. If God willing.
Hakim little brother. Too tired on the last day.
The one that help in giving food, arrange the lorries and transportation. Management Team.
Trip to Masjid Kristal, Kuala Terengganu.
Masjid Kristal.
At the Entrance.
With the 3000 ringgit mock cheque.
The decorator of the winning design. Sipook.
Jumpshot!!!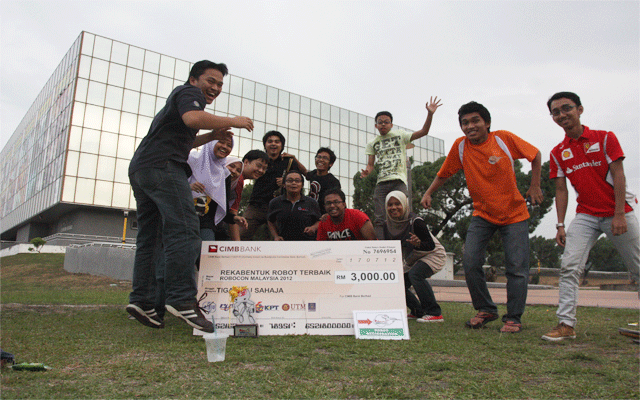 and to conclude, i wish the junior all the best. Make yourself proud by winning Robocon again for UTP, make us proud for all the knowledge that we've poured on you guys. Khairul Hanif, signing out.